How to vote in York Council's elections May 1st 2003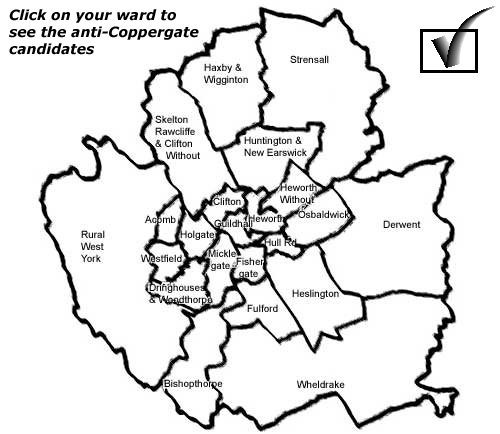 Acomb
Graham Cambridge (Official Monster Raving Loony)
Valmai Galvin (Conservative)
Bishopthorpe
Susan Williams (Conservative)
Clifton
John Cook (Independent)
Leslie Marsh (Independent)
Stephen Prophet (Independent)
William Shaw (Green)
Derwent
Jennifer Brooks (Conservative)
Dringhouses and Woodthorpe
Alan Deanes (Conservative)
Monica Garrity (Conservative)
John Naylor (Conservative)
Fishergate
Andrew D'Agorne (Green)
Robin Dickson (Conservative)
Mark Hill (Green)
Fulford
Walter Davy (Conservative)
Helen Kenwright (Green)
Guildhall
Gillian Cossham (Green)
Denise Crafhill (Green)
Mark Russell (Socialist Alliance)
Nicholas Toms (Conservative)
Brian Watson (Labour)
Haxby and Wigginton
Gareth Dadd (Conservative)
Robert Phillips (Conservative)
Alan Robertshaw (Green)
Heslington
Andrew Collingwood (Socialist Alliance)
Richard Robeson (Conservative)
Candida Spillard (Green)
Heworth
Patricia Kay (Conservative)
David Layfield (Green)
Heworth Without
William Bennett (Conservative)
Holgate
Nicholas Major (Conservative)
Mark Nicholson (Green)
Hull Road
Gordon Campbell-Thomas (Independent)
John Cossham (Green)
David Wilde (Labour)
Huntington and New Earswick
Geoff Beacon (Labour)
Paul Tumman (Conservative)
Olive Woolley (Green)
Micklegate
Andrew Chase (Green)
David King (Green)
Robert Looker (Socialist Alliance)
Anthony Martin (Green)
Christopher Megone (Conservative)
Osbaldwick
Gerald Grisdale (Independent)
Rural West York
John Gillies (Conservative)
Janet Hopton (Independent)
Adam Sinclair (Conservative)
George Thomson-Smith (Conservative)
Skelton, Rawcliffe & Clifton Without
Andrew Dearden (Green)
Peter Gibson (Conservative)
Andrew Kay (Conservative)
Victor Paylor (Independent)
Strensall
William Hanbury (Conservative)
Jonathan Moore (Conservative)
Westfield
Kenneth Beavan (Conservative)
Wheldrake
John Galvin (Conservative)
The Castle Area Campaign is not allied to any political party. We have had Greens, Labour Party members, Conservatives, Socialists and people without any party allegiance who have been active in this campaign.
The role of the smaller parties and the Independents becomes ever more crucial if York is to have a Council which is driven by the needs and wishes of its citizens rather than be mired in the dogma and bullying of party politics.
The Castle Area Campaign believes that citizens can really use their vote in favour of people and parties who support York's special heritage, environment and local traders, and against those who would side with Land Securities to build Coppergate II which would be a stain on York's character until the day it is pulled down.
Please use your vote wisely.
The final choice is yours, but however you cast your vote, make it a vote for York.
The Councillors who were in favour of Coppergate II are shown here. It is important that they are dismissed from office for trying to ruin a special part our our city.