Land Securities' model of the proposed development. Reminiscent of Berlin circa 1930s or Soviet style architecture.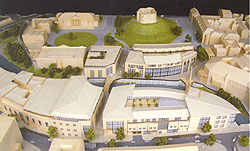 See how close the new shops would encroach on Clifford's Tower.
See how the Castle Museum is hidden behind the new block.
See how big these ugly blocks would be!
We must stop this from happening in York. There are alternatives.